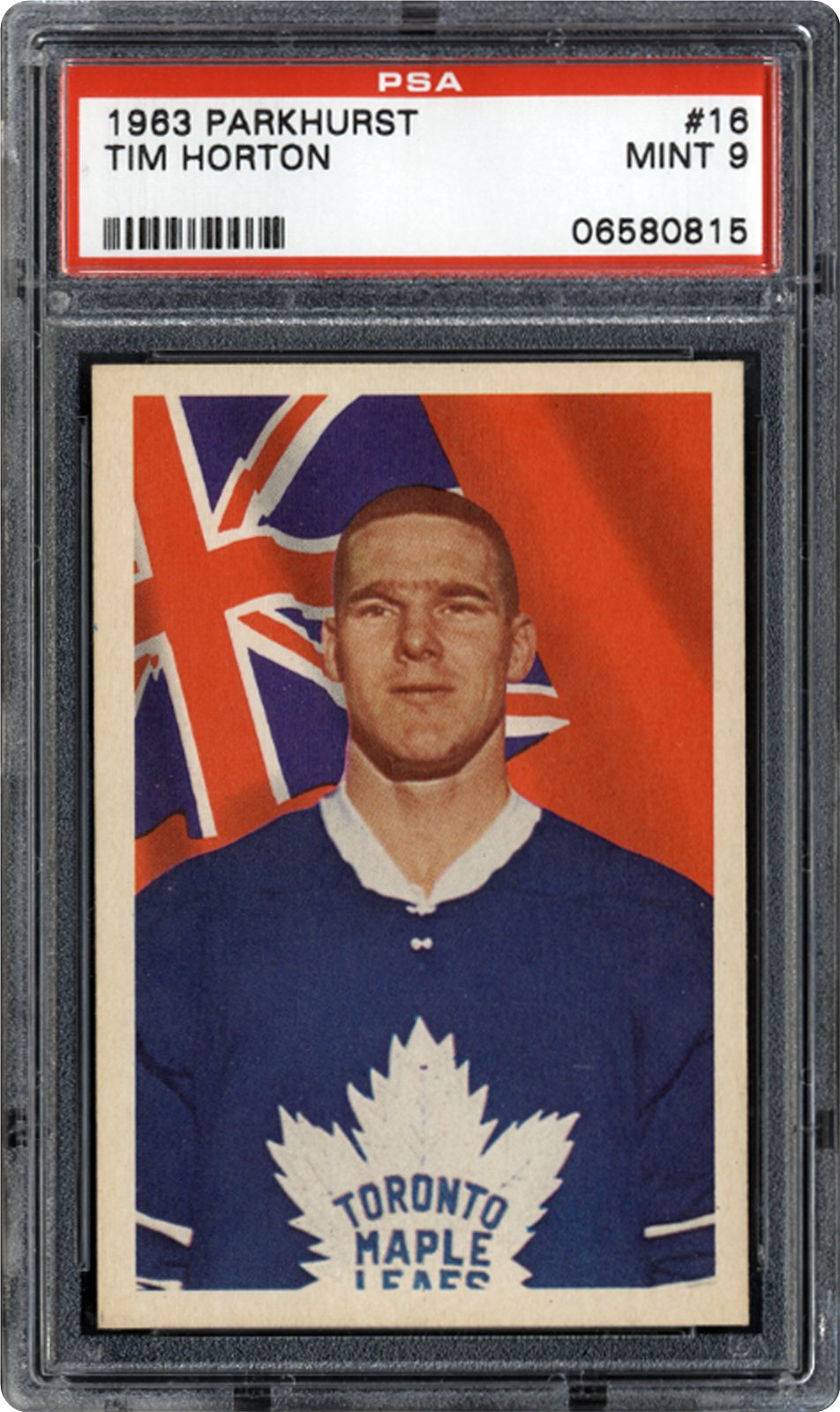 January 1965. The Toronto Maple Leafs were three-time defending Stanley Cup champions. In an effort to win their fourth straight chalice the squad encountered an unusual rash of injuries as 1964 turned to 1965. A 3-0 loss at Boston on Friday January 1, 1965 dropped the Leafs to under .500 at 12-13-8 and fourth place in the NHL.
In this game, on top of George Armstrong, Andy Bathgate and Dave Keon being absent due to injuries, rookie sensation Ron Ellis sustained a concussion and would now miss time as well. The Leafs were scheduled to play the next two days and were desperately short of forwards. It was at this point that Punch Imlach moved Tim Horton from his All-Star calibre defence position to play right wing.
The next night back in Toronto the Leafs beat the New York Rangers 3-1. Tim Horton had two of the three goals, one of them shorthanded. They would travel to Boston for the third game in three nights and tie the Bruins 3-3. Dave Keon returned for this game but Horton remained as a forward and tallied another goal. Toronto won their next two games as the converted defender Horton continued patrolling right wing, although he had no points. On Sunday January 10 in New York, the Leafs kept on rolling with a 6-0 embarrassment of the Rangers. Horton chipped in two more goals about which the Associated Press wrote,
"Horton, making the most of his temporary conversion to right wing, also scored twice."
Leafs returned home to tie first-place Chicago 0-0, then split with Montreal and Detroit. Horton picked up an assist in each of the last two games. On Sunday the 17th Toronto went again to Boston and were reinforced by the return of Ron Ellis. They won 3-1 behind two more goals by right winger Tim Horton. By now the Leafs had climbed to 18-14-10 good for third place, only three points out of first.
In the nine games so far with Horton on the wing, the Leafs had gone 6-1-2 with Tim scoring 7 goals and 2 assists. Still, the Leafs remained short-handed in the forward brigade. Bathgate and Armstrong were still out and Horton remained on the wing. Leafs would lose to Montreal 2-1 and tie New York 1-1 before Bathgate returned on Jan. 24 for a 4-1 loss in Detroit. Horton had no points in these three matches.
Finally on January 29 the Canadian Press had a small article announcing,
"Leafs Appear Back to Normal; Toronto Maple Leafs will have a back-to-normal look when they play Boston Bruins here Saturday night. Captain George Armstrong and Andy Bathgate will be back in the lineup (Bathgate had played the previous game) and the Leafs defensive pairings will be changed to the same combinations that won the Stanley Cup for the third consecutive year last season. With those two back, Tim Horton, who has been playing as a forward will be shifted back to defence with Allan Stanley."
Horton did indeed return to his normal spot beside Stanley, and he had two more assists that evening.
When all was said and done, Horton's 7 goals in a 9 game span represented more than half of his 12 goal output for 1964/65. In the big picture, those seven goals amount to 6% of his career total in 0.6% of his career games. Crazy. In relative terms that would be the same as Wayne Gretzky scoring 54 goals over a 9 game span. Come to think of it, he may have actually come close a few times.