"No More Hockey", Says The Turk. 'Six-Teeth' Goal Did It
; this was the headline of The Maple Leaf newspaper of the Canadian Armed Forces in Britain on January 8, 1946. The article continued,
"the stocky happy-go-lucky Broda appeared serious in his assessment that his bulky frame will never again be a target for flying pucks. Broda was practising at Amsterdam with a CFN all-star team when a puck fired from three or four feet out caught him flush in the mouth and dislodged six teeth. "Can ya imagine," gesticulated the portly Turk, flashing at the same time the replaced "biters" furnished by a considerate army dentist, "getting it from some joker after catching the best from the best of 'em."
Broda had been a member of the Canadian Armed Forces for almost two and a half years after playing seven full seasons with Toronto. If Broda was to be trusted, his career almost came to an end before he even returned to NHL play. At this point, he was in the process of being repatriated and would soon return to Canada. The article concluded; "the six-teeth goal, he says, is the last one to be scored on him. But if a Canadian Forces series comes to pass before the ship gets ready to sail- well, he might get in there once more 'to help the guys along'."
Of course within a month, the Turk would be back in Toronto and tending goal for the Maple Leafs. He played his first game February 6, 1946 in Boston, backstopping the Leafs to a come-from-behind 3-3 tie and played in each of the final 15 games of the 1945/46 season. Unfortunately, the rust was slow to be shaken off for Broda as he posted a pedestrian record of 6-6-2 with a 3.53 goals against average. Toronto finished in fifth place, five points out of the playoffs. Broda would be back in form the following year as he led the Leafs to their first of four Stanley Cups in five years.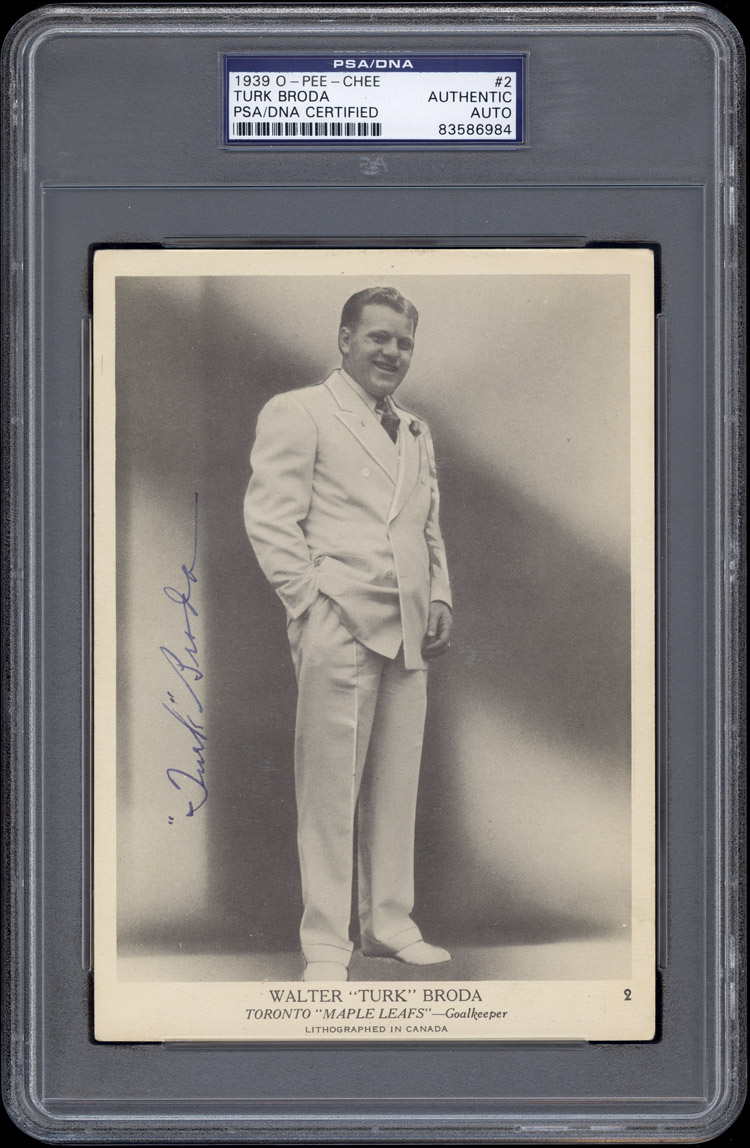 As strange as Broda's Army career came to a close, the start of it was even more bizarre. The headline from October 15, 1943 says it all; "Turk Broda Taken From Train And Put Into Army". Now, Broda wasn't attempting to desert his obligations to the military, he was merely trying to do it on his own accord. Having received a military call-up notice Broda simply wanted to travel from Toronto to Montreal and enlist there. It turns out he had been offered $2,400 on top of his military salary to play hockey for a senior team in Montreal. Although Broda was being accompanied by an Army Sergeant-Major, his enlistment deadline of midnight had passed and he was taken to the local Stanley Barracks by the RCMP.

Broda's incident was far from the first time a professional athlete had taken a 'gift' to join a certain military club, but it certainly raised the public's awareness of the practice. Jim Coleman of the Globe and Mail wrote,"The army can obviate a lot of criticism by announcing immediately that Broda will play no hockey this winter-regardless of where he is stationed." A Globe and Mail editorial added,"The advantage of sports to the services is to keep the men physically fit and mentally alert but when hockey teams in different centers begin to compete for outstanding players who have received their draft notices, then it is time for the military authorities to step in."

In the end, Broda would not play for either the Toronto or Montreal Army squads. He would play the role of a 'ringer', helping out a few teams including the San Diego Skyhawks of the Southern California Senior League in a series of exhibition matches. He also played a game for the Petawawa Grenades in the Ottawa Valley Senior circuit before being stationed in Britain where he played on some barnstorming Army teams.