I began last week, the task of identifying the above photo. As far as I know at this point, it is from an Old-timers game of ex-NHLers and PCHL/WHLers that took place at Vancouver's Forum in the 1950s or early 60s. The major finding is the fact that Hal Laycoe is definitely in this old-timers photo, but he was an active NHLer until 1956, so the pic must be from after that year. After finding and discounting a newspaper article on a similar game from 1953, I managed to find mention of a game the following year in the Vancouver Sun; March 1, 1954. Using "Laycoe Parameter", this is still not likely the game pictured in the above photo, but let's confirm anyway.
The newspaper photo identifies the following guys; Art Somers, Bill Carse, Clint Smith, Tip O'Neil, Bill Hutton, Chuck Millman and goalie Earl Robertson. Bill Hutton and Clint Smith are perhaps the only two guys that I can identify in the mystery photo. See the comparisons below.
Bill Hutton, and in mystery pic
Clint Smith in mystery pic
Clint Smith
I found some good photos of Art Somer and Bill Carse from around the same era, I can with high certainty say these two do not appear in the mystery photo.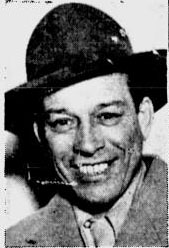 Art Somer, 1949
Bill Carse, late 1940s
In addition to the great newspaper photo, the Vancouver Sun had the great Babe Pratt write about the game in which he played. The first few paragraphs are below.
The article by Babe Pratt goes on to mention players from the game; Sweeney Schriner, Lorne Carr, Art Chapman, Alex Shibicky and the recognizable Eddie Shore. I'm fairly certain that none of these guys are pictured in the mystery photo.
It's pretty safe to rule out the 1954 Vancouver Old-timer game as being the one in my photo, I'm still leaning toward late 1950s or early 60s. The hunt continues.