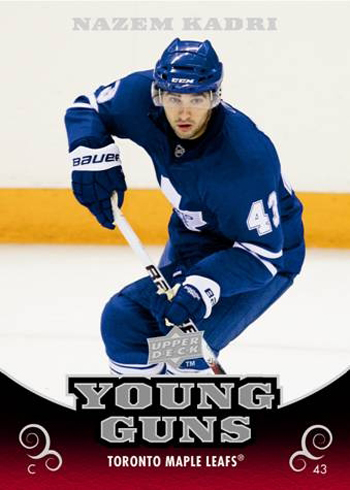 It still amazes me at how Nazem Kadri has blossomed this season. Even as a die-hard Leaf supporter, I'm waiting for the bubble to burst, he can't be THIS good, can he?
Being a Maple Leaf in the top 10 of NHL scoring is one thing, but not as rare as one may think, Kessel did it just last year and Sundin and Gilmour finished top 10 twice each. OK, that's it since the 1970's so maybe it is pretty rare. Now the fact that Kadri is 22 years old while being a top 10 scorer...THAT is a rarity for Toronto.
The last time the Maple Leafs had a player 22 or younger finish in the top 10 of NHL scoring was 66 years ago, in 1946/47 when 21 year-old "Teeder" Ted Kennedy finished in third place.
Darryl Sittler came the closest most 'recently' when he placed 8th in scoring in 1973/74 at age 23, and before that it was The Big 'M' Frank Mahovlich finishing 3rd in 1960/61 at age 23.
Below is the list of all the times Toronto has had a player 22 years-old or younger in the top 10 of NHL scoring.
Ted Kennedy, 46/47 3rd (21)
Ted Kennedy, 44/45 5th (19)
Gus Bodnar, 43/44 10th (20)
Syl Apps, 36/37 2nd (22)
Busher Jackson, 32/33 2nd (22)
Busher Jackson, 31/32 1st (21)
Charlie Conacher, 31/32 4th (22)
Charlie Conacher, 30/31 3rd (21)
Andy Blair, 30/31 3rd (22)
Reg Noble, 17/18 3rd (21)