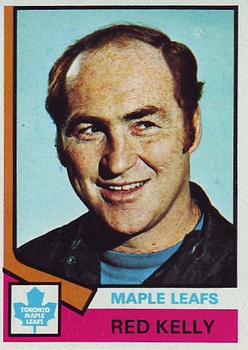 Here's a story I had never heard that I just stumbled upon. On Wednesday November 27, 1974 in New York during a game against the Rangers, Toronto Maple Leaf coach Red Kelly coached the game while carrying a six-foot long bull whip. Yep. A bull whip, look at the Associated Press photo below published the day after. Crazy.
One week earlier, Kelly and his Maple Leafs came under harsh criticism from 70 year-old team president Harold Ballard and this apparently was Kelly's response. On November 19, 1974 Toronto held a record of 5-8-1 and were six points behind Boston and eighteen behind Buffalo in the NHL's Adams Division. The Leafs had lost three of four games and Ballard decided to go on a rant. Most famously, this was the occasion when he said "You could send Inge Hammarstrom into the corner with six eggs in his pocket and he wouldn't break any of them." As well, the curmudgeon said the players should be ashamed to walk the streets and face citizens of Toronto because of the way they had been playing.
The supportive president also said his players were being fat, lazy and unmotivated and coach Red Kelly was being too easy on them. He said they had been hurt by a lack of leadership and that captain Dave Keon was not giving the leadership a captain should provide. Of coach Kelly, Ballard flatly stated that was "too nice a guy," to which Kelly replied,"Mr. Ballard is president of the club and I can't blame him for being upset. I'm not happy either."
How did the team respond to such criticism? They lost the next night to Pittsburgh 8-5, followed by two more losses and a tie. Apparently that was too much for Red Kelly to take and out came the whip, literally. An Associated Press story from Nov 28, 1974 states,
"...Ballard has stated that coach Red Kelly is 'too nice a guy', with his players. Kelly took steps to change that Wednesday. He brought a six-foot bull whip and walked with it in his hand during Wednesday night's game against the Rangers."
Kelly commented after the game, "There have been a couple of comments that I'm not cracking the whip enough, so I cracked it a few times behind the bench. It worked well enough in the first period, but after that, it didn't go so well."
No, it did not go well at all as Toronto dropped a 4-1 decision to the Rangers despite a terrific 48-save effort from goalie Doug Favell. Referring to his coach's bizarre tactic Favell said, "It didn't bother me. He couldn't reach the net with it, so I was safe."
As ridiculous as Kelly's actions may seem they may have indeed had the desired effect. Toronto snapped out of their funk three days later thanks to the worst team in history, the Washington Capitals. Even a scuffling Toronto squad managed to rout them 7-1. Whatever the cause for the turnaround, the Leafs would go 26-21-12 the remainder of the season after Kelly's whip cracking in New York. They would go on to upset the Los Angeles Kings in a best-of-three first round before getting swept by the eventual Cup champion Flyers.
Red Kelly coached Toronto for two more seasons. For captain Dave Keon this season would be his last in Blue and White, Ballard's comments were a large part of his jumping to the WHA's Minnesota Fighting Saints.