A few months ago I crossed paths with former Edmonton Oiler goalie Mike Zanier on social media. He agreed to answer a few questions I had about his career, and after some email exchanges I found he had quite an interesting past as well as present.
Perhaps Zanier's biggest claim to fame is the fact that he was pressed into back-up duty for the Edmonton Oilers while they were en route to their first Stanley Cup championship. It all began in game three
of the 1984 final when Grant Fuhr injured his shoulder. Oiler Pat Hughes checked Pat Lafontaine and carried him into Fuhr against the boards. Andy Moog took over and started the final two games as the Oilers won their first Cup. With Fuhr incapacitated, the 21-year old Mike Zanier dressed as backup.
Zanier had just completed his first professional season in the American Hockey League. In 31 games with the Moncton Alpines he posted a solid 3.30 GAA. Zanier would not get into any game action but he told me he "did got caught up on the unforgettable ride". I asked if it was nerve-wracking to be put in that spot as a rookie yet to play an NHL game. Zanier says, "
I had been called up during the season as well as the whole playoffs so I knew the guys and we were like family.....incredible experience
."
Zanier returned the following year to the Oilers AHL squad, now called the Nova Scotia Oilers and had another fine season. His 1984/85 AHL campaign produced a 3.45 GAA over 44 games as well as another memorable emergency stint with the big club. Grant Fuhr was injured once again in a 9-4 victory over Toronto on Feb. 19, 1985. He hurt his left shoulder while stretching for a wide shot late in the first period, the initial prognosis was he had a partially separated shoulder and would be out of action at least two weeks. Andy Moog was a more than capable replacement until he was also injured, hurting his knee on March 1. The Oilers started emergency call-up from the junior Kamloops Oilers, Darryl Reaugh on March 3. He lost 6-3 to Winnipeg, stopping 30 of 35 shots (one empty net goal) before being sent back to junior. This is where Mike Zanier comes in.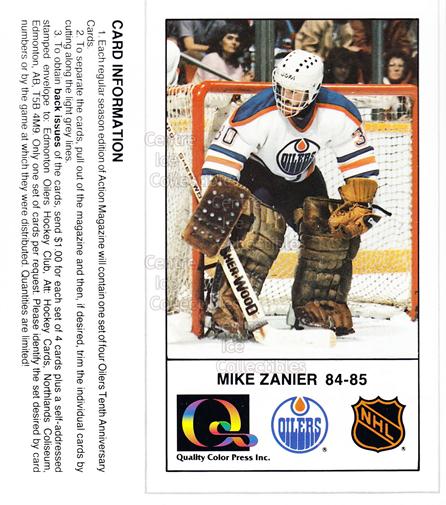 "I was called up the day before (March 4), got stuck in Toronto in a snowstorm before getting to Edmonton at 1 or 2 AM only to get on another flight to Calgary to play." Zanier says adding, "I did not have time to get nervous." He had to be slightly anxious though on March 5, when teammate Glen Anderson took a penalty a mere 14 seconds into his first NHL game. After all, the Flames were the second highest scoring team in the NHL (after Edmonton) and their power play clicked along at a 25% success rate. "I actually made a few key saves early before the boys started to roll," Zanier shares, and roll they did after that. Edmonton erupted for a 4 goals against Rejean Lemelin before the game was 14 minutes old. Zanier allowed a goal to Paul Reinhart a few minutes later and although down 4-1, Calgary ended up outshooting the Oilers 13-12 after one period. With the score 5-3 by the end of two, Zanier had to really earn his first win in the third period. Calgary outshot Edmonton 15-3, failing to score a goal as Zanier held on for the win.
"Always great to get a win in your first start as well as being chosen first star," he shared proudly.
Zanier went on to tie the New York Rangers 3-3 at home on March 9 then lost 6-3 in Vancouver the following night. He'd be returned to Nova Scotia as Fuhr and Moog returned to health. His final numbers that year (.880 Save Pct and a 3.89 GAA ) would be nearly identical to those of Fuhr by season's end. This would be the final time Zanier played in the NHL, but it was far from the end of the highlights of his playing career.
Mike with the 1984 Stanley Cup
Born in Trail B.C. in 1962, Zanier's father, Reno was a
goaltender as well. Mike would follow in his father's footsteps quite literally, playing for the senior league Trail Smoke Eaters fifteen years after his father had. In addition, Mike tended goal for the junior New Westminster Bruins 20 years after his dad played with the Western Hockey League professional version of them. I asked him if he crossed paths growing up with fellow Trail, BC (and fellow Canadian-Italians) Steve Tambellini and Ray Ferraro. "
Steve is a couple of years older (and his first-cousin) and Ray is a couple younger and I played with and against these guys growing up then on into pro," Zanier recalled,"
It was funny but I did follow my Dad's footsteps not by design, it just worked out that way." As for the legacy of the 1961 World Champion Trail Smoke Eaters team, "
We all grew up with the 61's, being related to them or just good family friends. Remember, Trail had only 10,000 people back then and all the Italians knew each other." As for being of Italian heritage, ("full Italian, with dual passport," he tells me) that leads to another highlight of Mike Zanier's hockey career.
with Milano of the Italian League
After the following two seasons spent in the International Hockey League with Indianapolis, Zanier decided to take his talents to Europe. He began the 1987/88 season with Bolzano HC of the Italian League and by 1989 he was representing Italy in the World Championships. Zanier played on the Italian national team along with ex-Leafs Bob Manno and Frank Nigro as well as ex-Sabres Gates Orlando and Jim Corsi. The nation won advancement to the A Pool just in time for the 1992 Albertville Winter Olympics. Understandably, the Italians had a tough go of it but it doesn't mean Zanier still wasn't disappointed by the outcome.
"The Olympics were a disappointment for us as we had a real good National team," Zanier says."In exhibition leading up to the Olympic Games we played the Finns three times and went 1-1-1 and the Russians twice losing two close games by a goal." These slightly raised hopes were dashed before the games even began as Mike explains,
"Our top guy got injured and we were in disagreement with the Italian Federation on how many Canadian/Italians would be going and it hurt the atmosphere around the club."
The Italians would go 1-4 in the round-robin beating only Poland by a score of 7-1. Zanier played the second game of the tournament against Sweden and the fifth game against Finland. "The only game we were dominated was by the Swedes," he relays. Sweden ended up outshooting Italy by 45 to 13 and winning 7-3. The game against Finland was a much closer 5-3 loss with Italy actually outshooting them 38-29. I pointed out to him that even though he lost both games he had the "honour" of being scored on by Hall of Famers Borje Salming at the end of his career and Teemu Selanne at the start of his, to which he replied, "I was just trying to help Börje go out with a bang and Teemu to start his career on the right foot."
In all, Zanier spent ten full seasons in Italy skating with teammates of ex-NHLers such as Mark Napier, Mark Pavelich, Cliff Ronning and Jari Kurri. He met his Swedish wife while skiing in Whistler, BC in 1992 and moved to Sweden after he wrapped up his playing career playing a season with Olofstoms IK in the Swedish 3rd Div. After coaching for a bit in the junior and senior level he began working as a colour commentator on Swedish radio for Vaxjo Lakers in 2010. "As far as I know, I'm the only one," he answered when I asked if he was the only Anglophone working on Swedish broadcasts. He, of course is fluent in the language now.
Zanier is currently watching and analyzing the Lakers as they battle Orebro in the opening round of the Swedish Elitserien playoffs. As for his future he says, "I have two young teenagers and feel best as a father right now and will definitely get back into hockey (coaching) when the time and place are right." Interestingly, leading scorer for Vaxjo in the playoffs is Canadian import Jeff Tambellini, son of Mike's cousin Steve. Small world.